Jason and Greg Meyer - Father and son at McDonough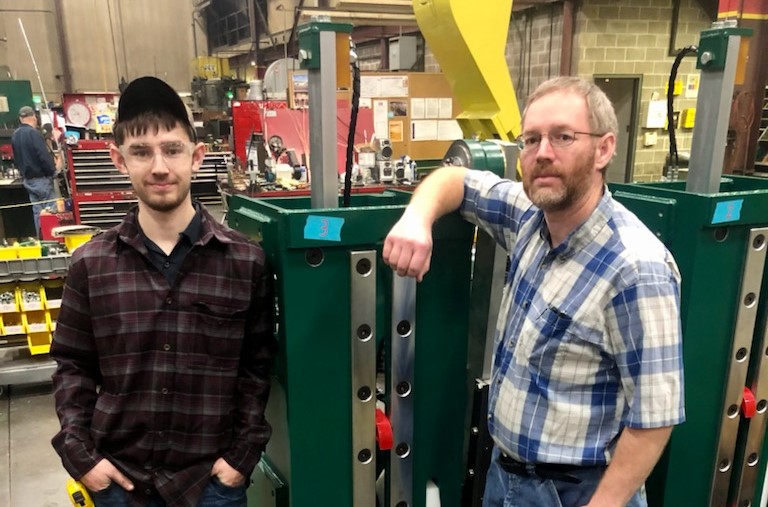 McDonough has always been a family company, and there a several family members who work together at our facilities in Eau Claire and Mactaquac. We recently chatted with Jason and Greg Meyer, father and son, who both work out of our Eau Claire shop.
Jason, an engineer at McDonough for over 20 years, is credited with teaching himself 3D CAD, PLC Programming and designing Motor Control Centers. Having been involved in numerous start-ups throughout his time with McDonough, Jason is able to bring hands-on experience to his work in the engineering department. An active member of his local church, Jason has been married to his wife Charlotte for over 23 years. Charlotte volunteers in the community as a firefighter and Emergency Medical Responder (EMR). In his spare time in the summer, Jason is an avid gardener and has a backyard orchard. In the winter, he enjoys deer hunting and reloading ammunition and learning new skills such as making websites and computer programming.
Greg has been working full-time in the shop at McDonough in Eau Claire both while he was in high school and now that he is enrolled in technical school, where McDonough is investing in Greg and his capabilities by paying for his tuition. At only 20 years old, Greg has an established reputation as a hard worker, having spent his high school years working in the mornings on his neighbor's dairy farm, attending high school, and finishing off his day by coming to McDonough to work afternoon/nights. An avid car guy, Greg has purchased, fixed up and sold both a '97 Dodge Ram and a 2000 Ford Mustang, and is currently working on a '02 Chevy Silverado.
Jason Meyer (the Dad)
Tell us how you got your start at McDonough.
I was laid off from my first job a s a mechanical engineer and at the same time, McDonough had an opening for a Mechanical/Design engineer, so I applied. McDonough gave me the chance to continue my career as a Mechanical Engineer and I've been here ever since.

You're part of the 20+ years club at McDonough. What has kept you here for so long?
Throughout my career at McDonough, I've been afforded the opportunity to learn and develop my engineering skills. I started at McDonough in mechanical design and over the years have transitioned into machine controls. All of the control design, electrical schematic and PLC programming skills I have, I acquired while working at McDonough. It is a great place to work as a family-owned company and with technical advancement opportunities.
What is your favorite machine to work on?
I enjoy working on the linebar resaw systems. It's amazing how easy it looks for these machines to move large pieces of wood and cut them up into boards.
What's the biggest change you've seen over your time at McDonough?
Today, the machinery has more controls and automation compared to 20 years ago.
What's it like working with your son, Greg?
I enjoy working with my son. I am typically in the Engineering office and he is in the Machine Shop, but it's great to see him excel at his chosen career and at the same time be involved with the same effort to produce our sawmill machinery. I am proud of him. He is not even 21 years old, and already he has nearly 4 years of fabrication and machining experience and excels at the work he does.
Greg (the son)
You've grown up with a father who's worked at McDonough your whole life. Did you always know this is where you would work as well?
It wasn't until I was about 15 when I developed an interest in metal work, mainly welding. I did a job shadow with Steve Wickersham, a welder at the McDonough shop, before I started at McDonough. After a while at McDonough, I started machining and realized that I preferred it to welding.
What's it like working with your father?
Working with my Dad is an experience that not everyone gets to have. I can ask him if I have questions about a part or I can talk to him about what he's working on. It is kinda awesome to work with my Dad and have the opportunity to show him how much I've learned working here.
What is your favorite machine to work on?
I love to run the CNC horizontal boring mills. Right now, I'm running the KT horizontal boring mill and while it's an older machine, I would still choose to run it over any other. I can confidently run the CNC lathes, CNC vertical mills and CNC Horizontal boring mills, and am confident that I could be put on any machine in the shop and produce quality parts within the expected timeframe.
How has your experience at McDonough helped with your technical school training?
My experience at McDonough has made technical school a lot easier. If I hadn't worked here as a machinist prior to and while going to school, I'm not sure if I'd be a machinist today.
What advice would you give to people thinking of pursuing this type of work?
I would tell them to find out first if you really like it, and then either go to school or get an apprenticeship to start learning. It also doesn't hurt to do extra research at home on your own time, that has helped me learn a lot more outside of what I'm learning at school. There are many right ways to machine a part.