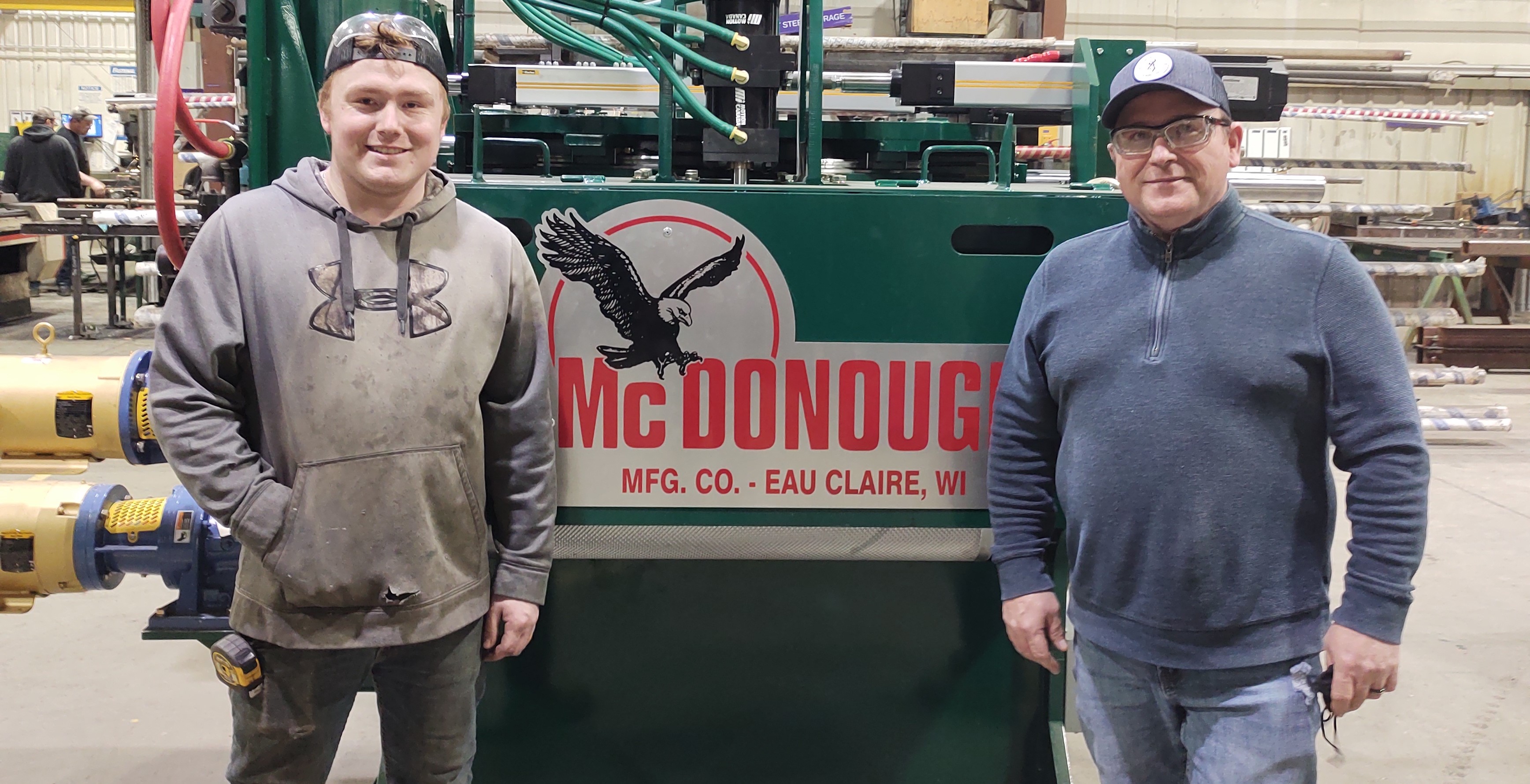 Joe (dad) and Dillon (son) Chapman both work in McDonough's Canadian shop. The pair have a lot in common, a passion for the manufacturing industry, hunting and the outdoors, but working on the shop floor with your father/son can also have some challenges. One thing they always agree on, however, is their commitment to building the best machines possible.
Joe (the Dad)
1. Tell us a bit about your background and experience in the manufacturing industry.
I started my career as welder/fabricator in 1992, spent 14 years in that role, then transitioned to a welding supervisor, then shortly after into plant manager of a fabrication shop that designed and fabricated sawmill equipment. That shop originally built and designed linear edgers, which are now known as the McDonough Edger. They exited the lumber equipment business and started manufacturing wood pellet machines, where I took my knowledge of the machines and started installing and attending startups.
2. Tell me how you got started at McDonough Canada.
When the company I was working for experienced some hardships, I went back to being a shop manager at a local welding shop. Hugh Hawley (VP Operations) and Steve Mockler (Lead Engineer) visited our shop to see if we could do some contract work for them, and the next day Hugh contacted me to ask if I would help set up the McDonough shop here in New Brunswick. I had worked with Hugh and Steve while I was at Valley Machine Works, having helped set up a linear edger in Quebec.
3. What is your favorite machine to see in the shop?
By far, my favorite machine in the shop is the OptiFit Edger. It's a complete work of art from start to finish. Our entire team did a great job for making this machine what it is today.
4. You've been on A LOT of startups all over the world. What are the ones that stick out in your mind?
I have traveled to every Canadian province except Newfoundland, most of the United States, but the most memorable start up I did was a pellet mill just outside Ho Chi Minh City, Vietnam. It was a great experience and taught me a lot about our company's fundamentals. Another install that would be near the top of my list would be the Greentree Forest Products startup I did back in December 2018. This would have been the best group I have ever worked with, and our edger system fit in their mill perfectly and has really helped the mill and community succeed.
What's it like working with your son, Dillon?
Working with my son can be both very rewarding and very hard. Keeping the parent out of the boss can be hard sometimes, and he probably would agree that I can be harder on him than the rest of the shop workers – but it's for a good reason. I strive to have the best and most efficient work from each of my employees, whether it be cutting steel, burning, machining, welding/fitting, painting and assembly, and he fits in this flow so it can be very rewarding to see the final results when we are doing the testing and everything works the way it should.
What do you like to do in your spare time?
My spare time is spent in the outdoors whenever I can. I am an avid hunter and fisherman – I just took up flyfishing in the last few years and it is the best therapy a person could have after a long week of making sure everything runs smoothly at the shop. I have been moose hunting since I was 18 years old and in the last 20 years have had the honor of either hunting for myself or with others and have had a perfect harvest record so far.
Dillon (the son)
1. Did you always know you'd want to follow your father's footsteps into the manufacturing industry?
I went to university of two years to study engineering and realized it was not what I ultimately wanted to do. The transition into manufacturing came very naturally as I've been working alongside my father since I was 13 years old in the industry, so I've always had an interest in this type of work.
2. What's it like working with your father?
He has taught me everything he knows in the industry and I think it has made me a better millwright.
3. What's your favourite machine to work on?
My favourite machine to work on would be the edger but I enjoy assembling everything that we build.
4. What advice would you give to anyone thinking of entering into this industry?
Going through school everyone told me that university was the best way to go, but after entering the trades I realized that, for me, taking a trade was the better choice. Decide what interests you, what you can see yourself doing for your working life, and go with that.
5. What do you like to do in your spare time?
I enjoy going hunting, fishing, wheeling – really anything that involves being outside.