Joylyn & Sherri - Eau Claire's Dynamic Duo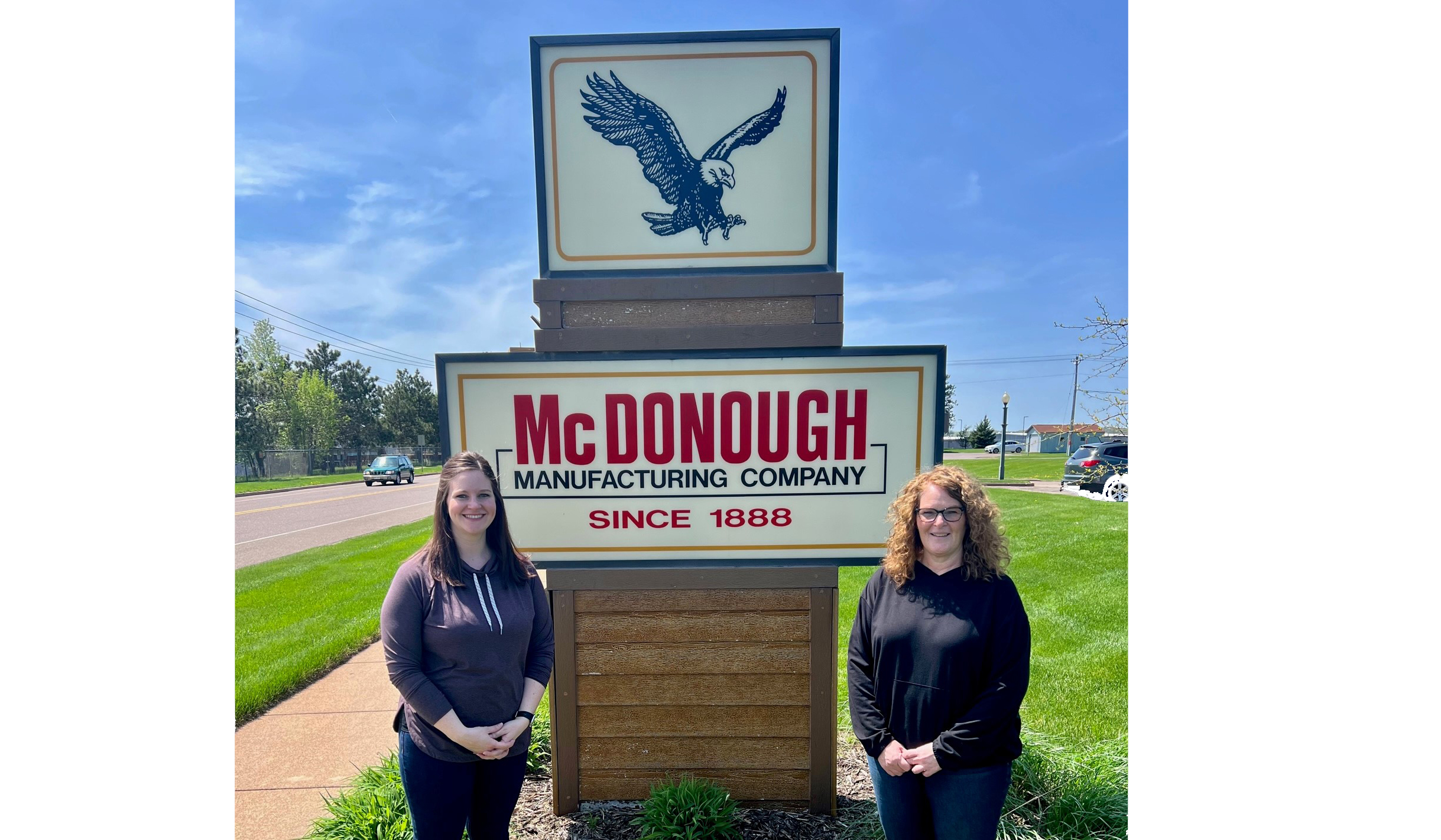 We would like to congratulate Joylyn Hanson Bauer on being named Controller and Sherri Lancour on being named Office Manager for McDonough Manufacturing! Both Joylyn and Sherri work out of our Eau Claire location.
Sue Tietz, Owner/CEO at McDonough, described both Joylyn and Sherri as vital to the company's' success. "Sherri has been with McDonough since 1999, cheerfully greeting customers both on the phone and in person. Her dedication to the image of our company is invaluable." Joylyn, having recently celebrated her 10-year McDonough-versary, is known for her "competency and professional work ethic", according to Sue. "As Manager of HR, she is extremely knowledgeable and is a valuable resource to everyone at McDonough."
Since many people have spoken to both Sherri and Joylyn, we thought it would be a good idea for you to get to know them better!
Joylyn grew up in Chippewa Falls, (Canadian author note: us Canadians were made aware of Chippewa Falls through Jack Dawson and the Titanic). She graduated from the University of Wisconsin – Eau Claire with a degree in Business Administration and Economics. Working at a health food store throughout college, Joy started with McDonough on a part-time basis six months post-graduation, before Sue asked her to come on full-time after just three months. Joylyn likes to travel anywhere she can find Mountains – the Grand Tetons have her heart. She also loves to bake (as most of her treats make it into the office, the folks at McDonough are very appreciative of this hobby), and she enjoys doing work around the house. She and her husband Adam, along with their dog Mojo, like to camp and tag along on Adam's fishing adventures. When asked what she likes best about working at McDonough, Joy replied that she "loves the people I work with and the culture that has been developed at McDonough."
Sherri also grew up in Chippewa Falls, living on Lake Wissota, where she enjoyed running out of her back door, down the steps and jumping off the dock. Sherri loved swimming in the lake so much, she had never been to a public pool until she took her own children for swimming lessons. After moving to Virginia for her husband's Naval career, Sherri spent time at home with her children before returning to an office setting. In her spare time, Sherri likes to garden that she shares with three families, made up of 100 tomato plants, 10 rows of potatoes and measures over 50 feet long! Maintaining an active lifestyle, Sherri heads to the gym most mornings before work, and likes to spend time on the water in the summer. Sherri likes to travel, calling Colorado 'stunning', and fondly remembers taking a ferry from Seattle to Victoria, BC, going through San Juan Island. Her favourite part of her job is the customer service aspect "I like talking to our customers. I know a lot of them just by the sound of their voice, and they know me too. It's so fun to chat with them, where we often talk about the weather, and I get asked by most southerners why we live so far North!"
Thank you for all you do to keep McDonough running, Joylyn and Sherri, and congratulations on your new positions!