Mitch - a Rush in more ways than one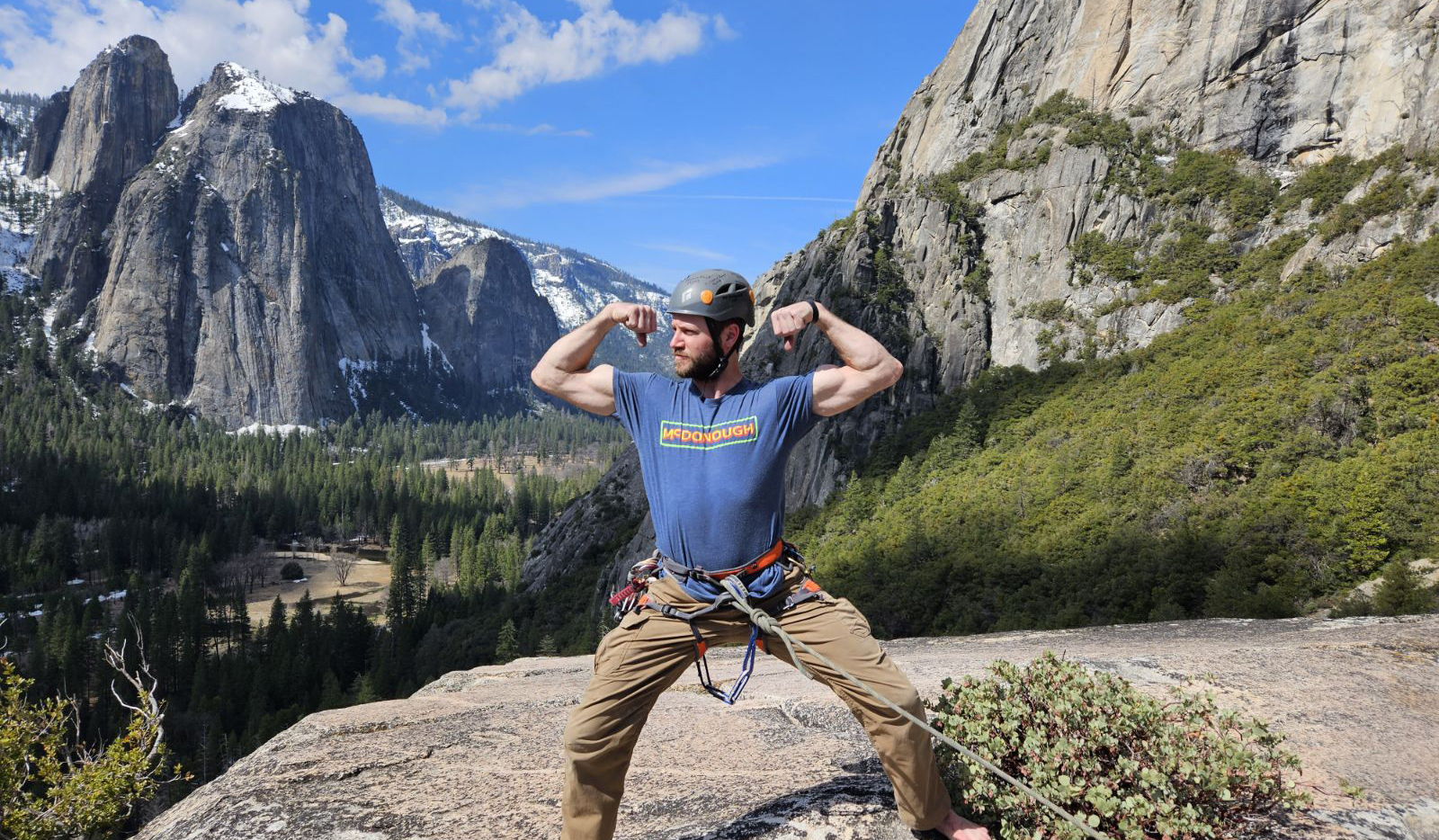 Mitch Rush, a welder at McDonough in Eau Claire, certainly lives up to his surname. Originally from Black River Falls, WI, Mitch has always been into outdoor activities like climbing, hiking, hunting, fishing, etc. Climbing is always #1 on his list when it comes to having some free time.
Mitch found a passion for welding in high school, leading to him attending technical school in 2010, before starting at McDonough about 1.5 years ago.
We talked to Mitch about his passion for rock climbing, and got some insight into the difficulties and rewards of this extreme sport.
Mitch's words
I became interested in climbing around 2011-12. It started with being interested in mountaineering, a friend of mine and I bought a bunch of gear to try and climb a mountain in Colorado. While we were waiting for our trip we thought, we have all the gear, might as well try regular rock climbing too. With so few climbers in Wisconsin, we had no mentors and it would be safe to say we were self-taught for much of our early climbing career.
I am motivated to see what I am capable of doing and how I'll react in very challenging and stressful situations. Climbing is much more mental than physical, it requires 100% attention at all times. If you make a simple mistake the consequences are severe.
We climbed multiple routes in Yosemite during the week we were there. We also spend three days climbing in Red Rocks, Nevada before we drove to Yosemite. I climbed my longest route ever in Red Rocks, about 1700 feet. In Yosemite we climbed a variety of routes in the 600-800 foot range. Yosemite had over 300% normal snowpack this year, so many of the big routes like El Capitan were essentially a 3000 foot waterfall. The rock quality on the climbs we did was absolutely perfect, the gear placements and belay anchors are very secure in granite rock.
I have so many climbs I would like to complete around the world that I won't live long enough to complete them all. I would love to climb all the classics on El Cap, Delani, the Eiger (Alps), Aconcagua (Andes), and at least one peak over 8000 meters in the Himalays (there are only 14).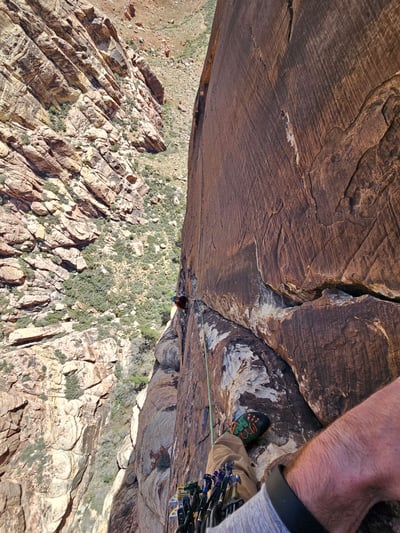 This is a picture I took of my climbing partner Brandyn in Red Rocks, Nevada. We are about 1200 feet off the ground. Many of the boulders at the bottom of the route are as big as a small house.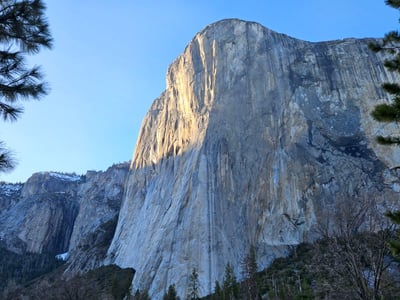 This is a picture of the Mecca of rock climbing – El Capitan. The longest route is almost 3300 feet, that's over 3x the height of the Empire State Building.
As fun as climbing is, it can be both mentally and physically exhausting. Sometimes acting silly is the only way to boost morale when you have a multi-mile hike back to camp after a strenuous day of climbing.