44-inch Sterling Horizontal Resaw
Sterling 44-inch Horizontal Resaw
A durable and affordable Horizontal Resaw system for mills that want to take advantage of thin kerf technology without sacrificing feed rates.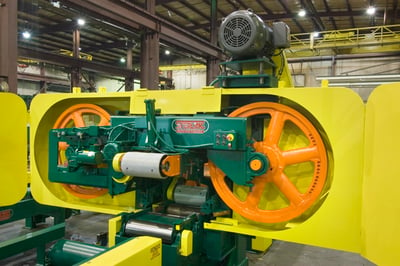 Benefits of a Sterling 44" Horizontal REsaw
Feature 44" — 10,000 pounds. 5" wide or less x 26' long saw blade. KERF = .085". 60 to 75HP required.

20" wide table with 18" high hold down roll capacity. Saw blade can shift to cut up to a 9" high cant.

Feed Rates range from 50 to over 250 feet per minute.

Hydraulically Operated Setting Mechanism or high speed push button servo setworks.

Exclusive McDonough Air Strain is the simplest, most effective system to increase feed speeds and minimize miscut lumber.

Cartridge Type Pressure Guide System assists in faster feed speeds and increased accuracy. Guide block dressing machine to resurface guides is included with each Band Mill.

Cast Iron Wheels. Preferred by saw filers because they prevent saw blades from getting hot and loosing tension, unlike steel wheels.
Available Options
Electric remote top wheel tilt

Steel wheel guards

Motor and drive packages.

Infeed Tables available with Smooth Transition Chains and Turners

Outfeed Tables available with Lift Arm style separation or "High Speed" Sweep Chains and Tipple Arm separation

Complete Runaround package with Operators Cabs available