MAXX Resaw Infeed System
Stop cutting air and increase the efficiency of your resaw system with the Maxx Infeed System from McDonough. The fastest linebar feed system available exclusively from McDonough. The Maxx Infeed System drastically reduces the space between flitches to significantly increase your resaw production. Available on all new McDonough Resaw Systems or as an Upgrade to your current resaw system.
Not Sure? Take the Test. It's Simple and only takes 5 minutes. With your current infeed system count the number of seconds between flitches. Cut that in half, and calculate the 'free' increase in production you'll get every minute of every day once you've installed the MAXX Infeed System from McDonough.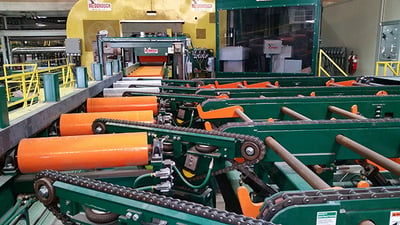 Benefits of a McDonough MAXX Resaw Infeed System
Automated gap control based on required saw sets and outfeed handling capabilities

Feed Speeds up to 20 lines per minute

Automated feeding requires only one grader/operator

Optimum saw feed speeds will reduce saw fatigue while increasing sawing capacity

Reduced dependency on the operator for optimum throughput means more consistent production and reduced operator fatigue