A Series Horizontal Resaw
A Series Horizontal Resaw
Our flagship Horizontal is the heaviest Horizontal on the market, ideal for those high production mills looking for slab recovery or cant operations! McDonough Manufacturing has been building quality sawmill machinery in the U.S. since 1888! The lumber industry has grown and changed a lot since the 1880s, and McDonough Manufacturing Company has grown right along with it. We have never lost our ability for innovation nor our desire to make the best sawmill equipment available.
.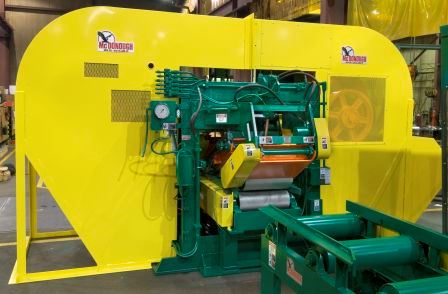 Features
Heavy Duty Plate Steel Frame with fully machined dovetail and flat ways for shifting column.

Hydraulically Driven Feed Table with knurled and chromed table rolls.

Hydraulically Driven Hold Down Rolls with segmented sprockets to feed slabs or knurled and chromed rolls for feeding boards and cants

Table widths from 18" up to 36" wide

Servo Setworks with heavy set shaft and cam roller assembly shifts column at 6" per second. Sets are made with a push of a button on the extensive operators console.

Exclusive McDonough Air Strain is the simplest, most effective system to increase feed speeds and minimize miscut lumber.

Cartridge Type Pressure Guide System assists in faster feed speeds and increased accuracy. Guide Block Dressing Machine to resurface guides is included with each band mill.

Cast Iron Wheels. Preferred by saw filers because they prevent saw blades from getting hot and loosing tension, unlike steel wheels.

Other standard features: Hydraulically operated idler wheel lift, Timken railroad car bearings in lower wheel, saw blade cleaning and lubricating device.
Specs
Available Sizes
54" — 22,000 pounds. 8" wide x 30' long saw blades. 75 to 125 HP required.

62" — 28,000 pounds. 10" wide x 36' long saw blades. 150 HP required.

6' — 34,000 pounds. 12" wide x 40' long saw blades. 200 HP required.

7' — 40,000 pounds. 14" wide x 47' long saw blades. 250 HP required.

Custom saw lengths can be accommodated upon request.


Available Options
Electric remote top wheel tilt, steel wheel guards, motor and drive packages.

Opposed and Tandem Twin configurations available

Infeed tables can be equipped with hydraulic run-up chains to position material against fence, slab flippers to place slabs face down or hydraulic chain type cant turners.

Outfeed tables come with lugged sweep chains to transfer material off rollcase on to separator system.

Outfeed table can have up to 9 different sorts by using a fully programmed PLC to create the fastest, most accurate sorting system available.

With McDonough tables, all wiring and plumbing for every feature is done for you. Just connect your mill power.